That's the plan. It is not set in stone and is subject to many variables such as visas, time and money.
Each dot represents a important city or checkpoint. Of course I will stop on many other places in between. If you see yourself on my route, let me know!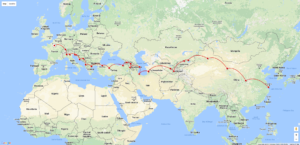 I plan to start my journey in Paris on Tuesday, April 11th at 10AM at the Arc de Triomphe.
PS: The image is drawn from this interactive map.